Private tours and transfers
Experience the magic of the Brijuni islands with complete privacy
A private or custom tour is one of our best sold attractions. The boat and its crew are exclusively at your disposal. The advantage of private tours is that you can rent our boat and enjoy in complete privacy. Our guests can choose between a panoramic tour of the Brijuni Islands with or without stop (your own choice) on the St. Jerome Island, or the "Dolphins-Sunset " tour. You can combine your trip and its duration as desired. The most wanted combination is excursion with swimming stop on St. Jerome island with a dolphin seek, along with a panoramic tour of the 14 NP Brijuni Islands in the sunset (14:00h - 20:30h). The maximum capacity of the boat is 12 persons.
Book your private tour and enjoy an excellent time where everything is based on your own wishes. Create your memories and have something special to bring home with you.
Types of private tours we offer
• Panorama tour (1.5h), 1.800kn, departures 9:00am, 10:30am, 12:00, 2:00pm
• St. Jerome - Panorama - Dolphins (5h), 1.900kn, departure around 3pm
• Dolphins - Sunset (1.5h), 1.800kn, departure 6:30pm
Payment: cash, on the day of the trip
Suitable: max 12 people
Dogs are allowed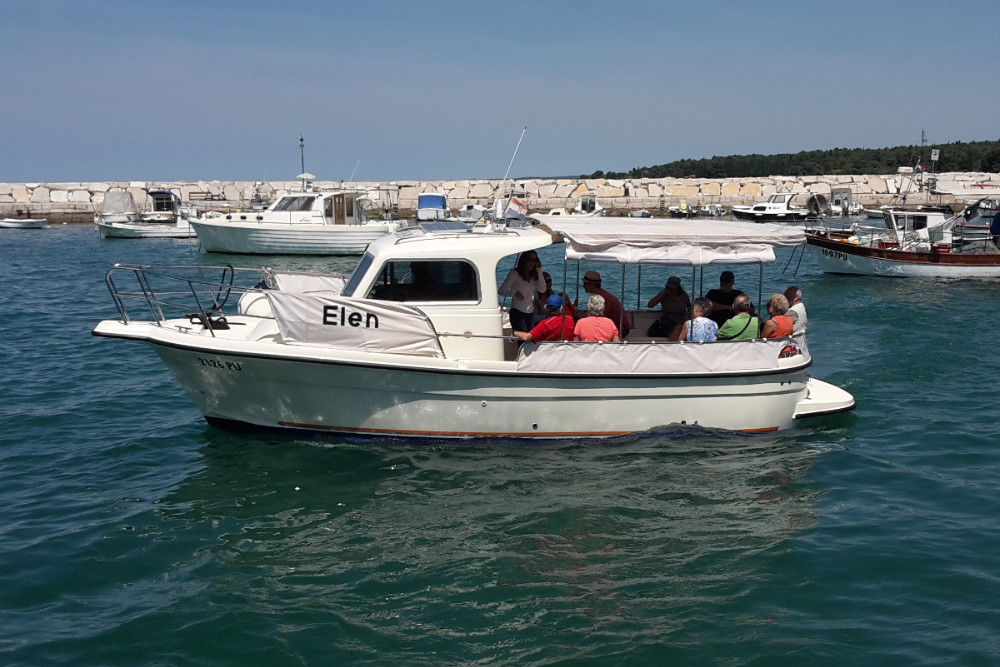 Contact Us
Our communication with you is of extreme importance to us. Please feel free to contact us with any questions, suggestions or concerns:
TAXI BOAT ELEN
T: +385 (0)91 512 30 60
E: info@taxiboat-fazana.eu
We are looking forward to seeing you!